Technology Expresso provides Scrum Master coaching, which is different from training. Training is something that you can take a class in person or online from a variety of different organizations. At the end of those classes you can get a certificate of completion or take a test and get a certification. But all too often people in their organization, as well as their teams, very quickly realize that a person isn't necessarily ready to be a Scrum leader or Agile leader, and that the title Scrum Master doesn't necessarily fit until they've had a few years of practical experience. However, these people may have all the potential to be great Scrum Masters, but on the road to collecting that real world experience as a Scrum Master, we help fill that gap and help expedite their learning and application of what they learned in their training classes.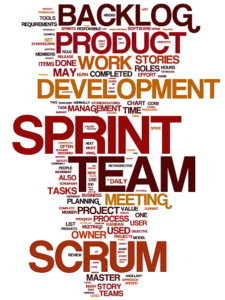 We ourselves are professional Scrum Masters and have coached both Scrum Masters and coaches of Scrum Masters in scrum master coaching. We are certified Scrum Master coaches. The difference between training and coaching is training is giving you the instructions, telling you the "what." It's a transfer of knowledge; one person is taking a formula that is written down in the form of lessons and transferring that knowledge. It's a telling of information for the purposes of test-taking, and then those tests help validate that you were told what the formula was. But taking that information and applying it in the real world, where there are real people with different personalities and even interpretations of Agile, you will quickly find as Scrum coaching that you are being challenged, and sometimes you don't have enough experience and context to resolve those challenges.
What can be at stake is your integrity as a Scrum Master because in some cases I've heard teams state very clearly, I have more experience than the Scrum Master in Agile. So, a coach can come along and help you interpret those instructions and apply them to your real world scenarios. They can help you with the translation, and help you, situation by situation, understand how to interpret and what tools and techniques to utilize. A coach helps you to build your confidence in yourself as a scrum master but also to build your team and the leadership around you and your confidence. They don't tell you what to do, they provide you guidance. They provide you options. They also challenge you to find the answers within yourself to help you go through the processing of a situation, and then determine what tools you might have been taught in training to apply, or how to dig and research and find answers to challenges that might go far beyond what you were taught as a scrum master.
We as coaches help and support scrum masters as they encounter a role that may be very different than anything they experienced especially those who are transitioning from, for example, a project management role into a Scrum Master role or from a supervisor role into a scrum master role. The Scrum coaching role is a servant leadership position in which people don't report to you. You're not their supervisor, you're not their manager. Much of what you do is through influence, building trust, building relationships, and many times that has to be done very quickly in order for you to be effective.
As a coach we:
Help you understand the art and the science of influencing, encouraging, motivating 

Help you understand how to resolve obstacles with a very light touch 

Help you facilitate and initiate tough conversations

Help you build bridges between stakeholders who may have previously not had the best relationships

Help you be able to observe and catch behaviors that might undermine the true intention of Agile

Help you understand different personality types and work styles 

Help you have great empathy, but also be able to challenge people and get them to embrace change no matter how uncomfortable it might              be
Scrum coaching often have to walk the thin line of being both good cop and bad cop and yet continue to retain the team's respect even though they sit somewhat outside of the team. You're there to influence and not rule. These are all very tricky and yet the Scrum Master has to keep a positive attitude toward Agile and continue to promote it, even when the team may not immediately agree or see the true long-term value. 
The Scrum Master has to be a coach, a cheerleader, a mentor, and even a referee sometimes. With all of the new responsibilities for a Scrum coaching, they sometimes need someone who can relate to what they do, to have an outlet and to vent to.  
Being Scrum Master coaches we've been that sounding board and yet can help those scrum masters get re-energized to go back and continue to nurture and grow their teams, even through their various stages of maturity and the inevitable setbacks, as well. Call us at @technologyexpresso.consulting so that we can help you and support your Scrum Masters on their journey.